Visitor Center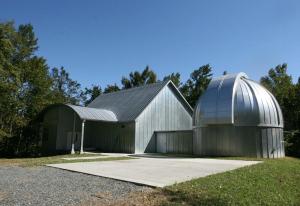 The Jo and Don Cline Visitor Center serves as a venue for public outreach at the Dark Sky Observatory. Jenkins-Peer Architects, of Charlotte, provided the design and supervision services. Jenkins-Peer also designed Appalachian State's Garwood Hall, which houses the Department of Physics and Astronomy and the Department of Chemistry and Fermentation Sciences.
The Visitor Center accommodates the needs of astronomers, students and the public. A large public area allows display space for public and group nights, as well as a place for introductory lectures at student sessions. There is also a meeting room for retreat meetings of small groups.
The control room in the Center provides a comfortable place for astronomers and their students to work as observations are under way (most modern astronomical observations do not require the observer to be right at the telescope). A large desk area accommodates the various computer and camera displays necessary for research. The control room is viewable from the public space through a large window. Along the bottom of the windows there is a row of redundant monitors, allowing the public to look in on the images and control functions viewed by the astronomers.
On monthly public nights the guests walk through a connector hall to the dome, where they are able to look through the telescope's eyepiece at celestial objects such as planets, the Moon, galaxies, and nebulae.
The cost of public access is somewhat self-supporting, with modest revenues from public night tickets, donations, sale of souvenirs, and group-use fees for special events.